Hike Scotland - Customer Testimonials
Read reviews, comments and testimonials from some of our many happy customers and friends from all around the world.
We have completed two tours with Hike Scotland now; the Isle of Skye and the Outer Hebrides and St Kilda. Both tours were personable, serene, flawlessly navigated, whilst never sacrificing the adventure side.
It was evident that throughout our time with them that thoughtful care was taken to provide the most awe-inspiring experiences and the most comfortable accommodations.
Our guide, Stuart Hall, is a treasure and we both feel fortunate for the opportunity to share his bit of the world. His apparent joy and excitement for sharing the experiences is infectious and makes him more of a fellow adventurer than an uninvested tour guide.
It's truly a special experience and one that we hope to repeat sometime in the future.
In the meantime, Skye and St Kilda will remain in our hearts.
Rex and Danna
Salt Lake City, Utah, USA
August 2019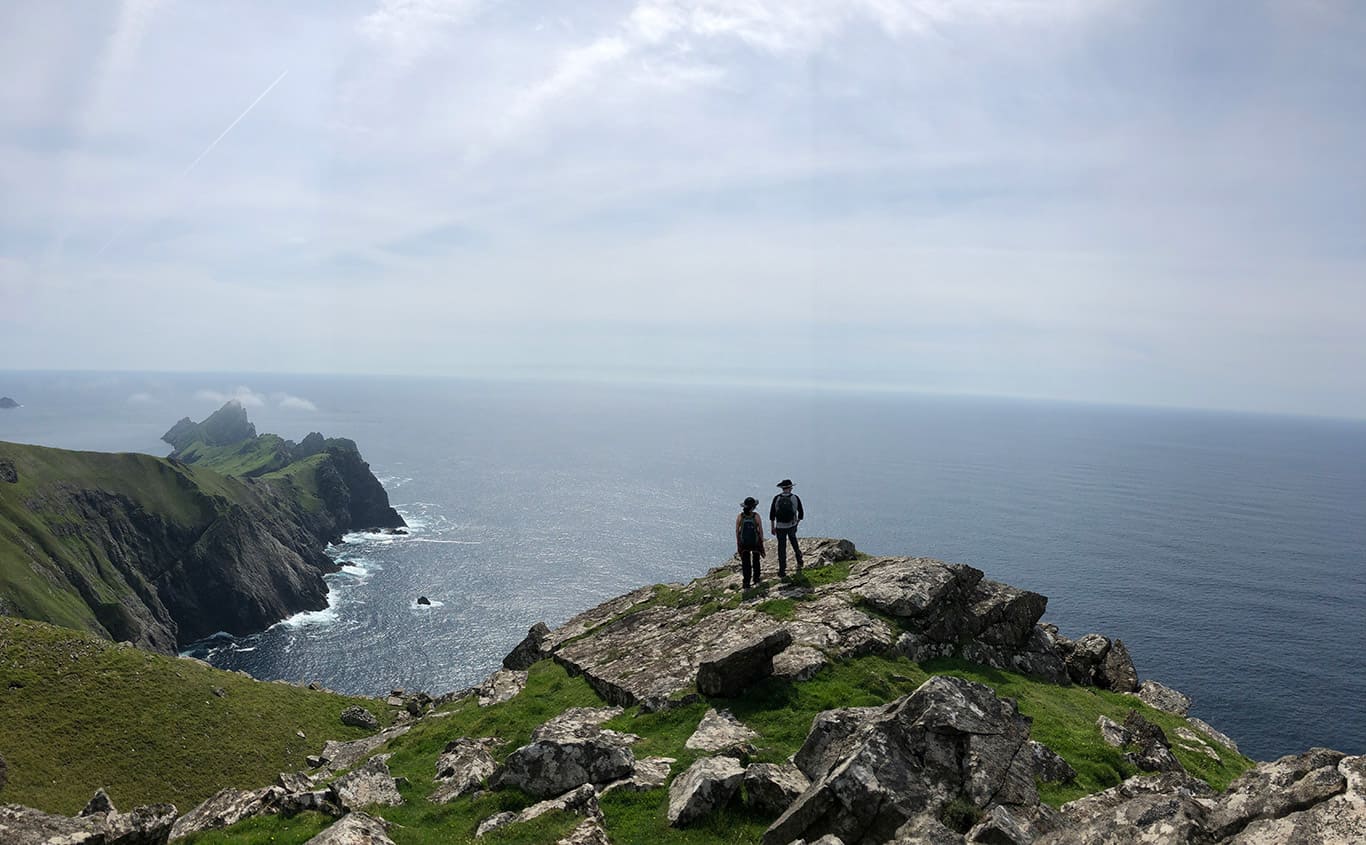 Located roughly halfway between Norway and Iceland, the Faroe Islands are comprised of 18 rocky, volcanic islands in the wild North Atlantic.
If you love hiking and nature is close to your heart, then the Faroes are the place to be. One of the many special features of the islands is that you don't need to travel too far to experience magnificent and pristine nature.
Every day we did wonderful hikes and each time we experienced totally contrasting scenery and weather!
Mykines (or Puffin Island) was definitely one of the highlights, as was the stunning climb up Villingardalsfjall and Enniberg, where we hiked through the mist to the summit to be met with a 360 degree panoramic bluebird view of the entire islands.
This was our fourth tour with Hike Scotland and as ever, Stuart took care of everything and adapted the hiking to our wishes and the prevailing weather.
One of our best hiking trips ever. Go there before it's too late and mass tourism gets a chance to endanger these unspoilt and pristine islands.
Hans and Geert van de Velde
Antwerp, Belgium
July 2019
Our 2019 tour of the Faroe Islands, organized and led by guides Stuart Hall and Ruth Hackney, was a fascinating excursion to a beautiful, secluded and sparsely populated place.
The terrain is stunning and the villages we visited were quaint, beautiful and a reminder of much simpler times. Although the country's infrastructure has yet to be built to accommodate significant levels of tourism, the hotels were very comfortable and the meals simply delicious. The seafood in particular was absolutely the freshest!
The weather varied from crystal clear blue skies to rolling dense mist, but the landscapes were glorious in all weather. Visits to museums and other cultural sites balanced the hikes to make for a very enjoyable and educational tour.
This was our second hiking trip with Stuart and Hike Scotland and our third with Ruth. We look forward to our next adventure with them both as our guides. We find them to be simply the best due to their warmth and their gracious accommodation of our varying abilities and wide range of interests.
Mary and Kevin Cantley
Atlanta, Georgia, USA
July 2019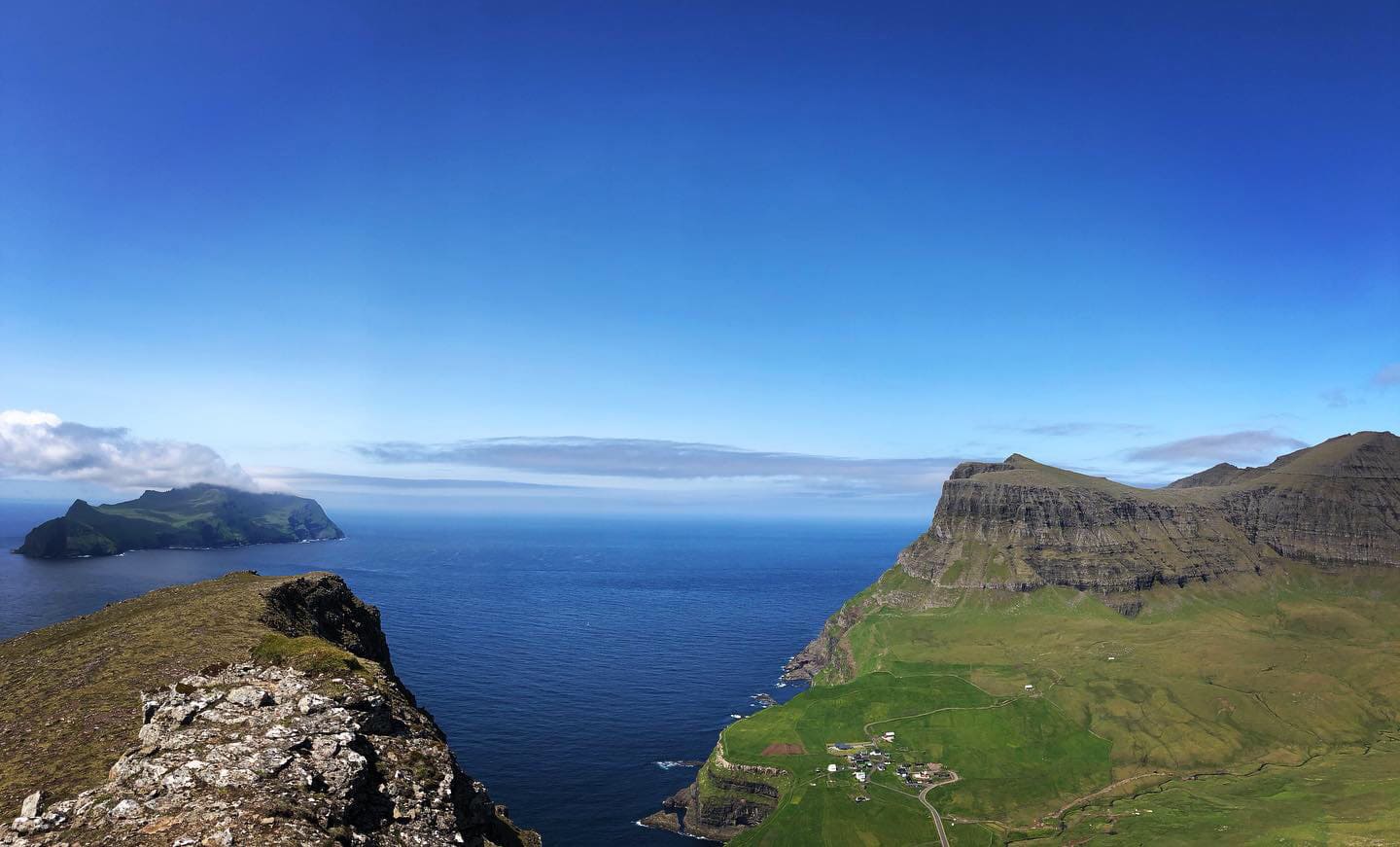 Stuart led a fabulous tour of the Isle of Skye. He is very knowledgeable and led the tour along trails through gorgeous landscapes, that would have been inaccessible but for his expertise.
I would strongly recommend Hike Scotland.
Kathleen Clark
Washington DC, USA
July 2019
We have just completed our fourth hiking adventure with Stuart Hall from Hike Scotland and his fellow guide Ruth Hackney, with whom we have hiked five times, (two in Greece and three in Scotland). In addition, the other guests (save one) were friends of ours with whom we have hiked before, so it was a merry band who set out from Inverness to explore the beauty, the history, the wildlife, the food and the spirits of the northern most part of Scotland's mainland and Orkney.
We hiked many a cliff walk, overlooking magnificent sea stacks and nesting areas for puffins, gannets, cormorants, shags and guillemots, especially on Handa Island. We travelled across beautiful gorges, waterfalls, serene country lanes and simply astonishing vistas each day.
We also got to visit the Castle of Mey, where the Queen Mother spent August and October for more than 50 years after her husband, the current Queen's father died and that was before we went to Orkney.
Orkney is a series of islands north of mainland Scotland, with a rich and fascinating history stretching back over 5,000 years. We visited the Circle of Brodgar and Skara Brae, ancient sites where you can feel the presence of the Neolithic peoples who constructed them thousands of years ago.
We visited the WWII batteries that helped guard the Britsih Navy, the remains of the Bishops and Earls Palace from the renaissance period, along with the huge cathedral from the 12th century, as well as numerous Viking sites, testament to the period when the Vikings ruled these islands.
The hiking was easy to moderate, the guidance, explanations and backgrounds were extremely informative, the lodgings were of the highest quality for the region and the food and spirits were fresh, delicious and generous.
But the most important words are reserved for our guides. Stuart and Ruth are long experienced, exceptionally knowledgeable, generous, helpful, flexible and accommodating. They are so easy to be with and talk to and they never seem to tire of their multiple tasks as guides. And most of all, they are patient.
So, we have hiked with Stuart and Ruth in Glencoe and the Highlands, Isle of Skye, Outer Hebrides and now the North Coast 500 and Orkney. We very much look forward to hiking with them again.
If you are reading this and are unfamiliar with Hike Scotland, we can only hope that you take the opportunity to travel on one of their tours, it will be an unforgettable experience.
Barbara and Wayne Smith
New Orleans, Louisiana, USA
June 2019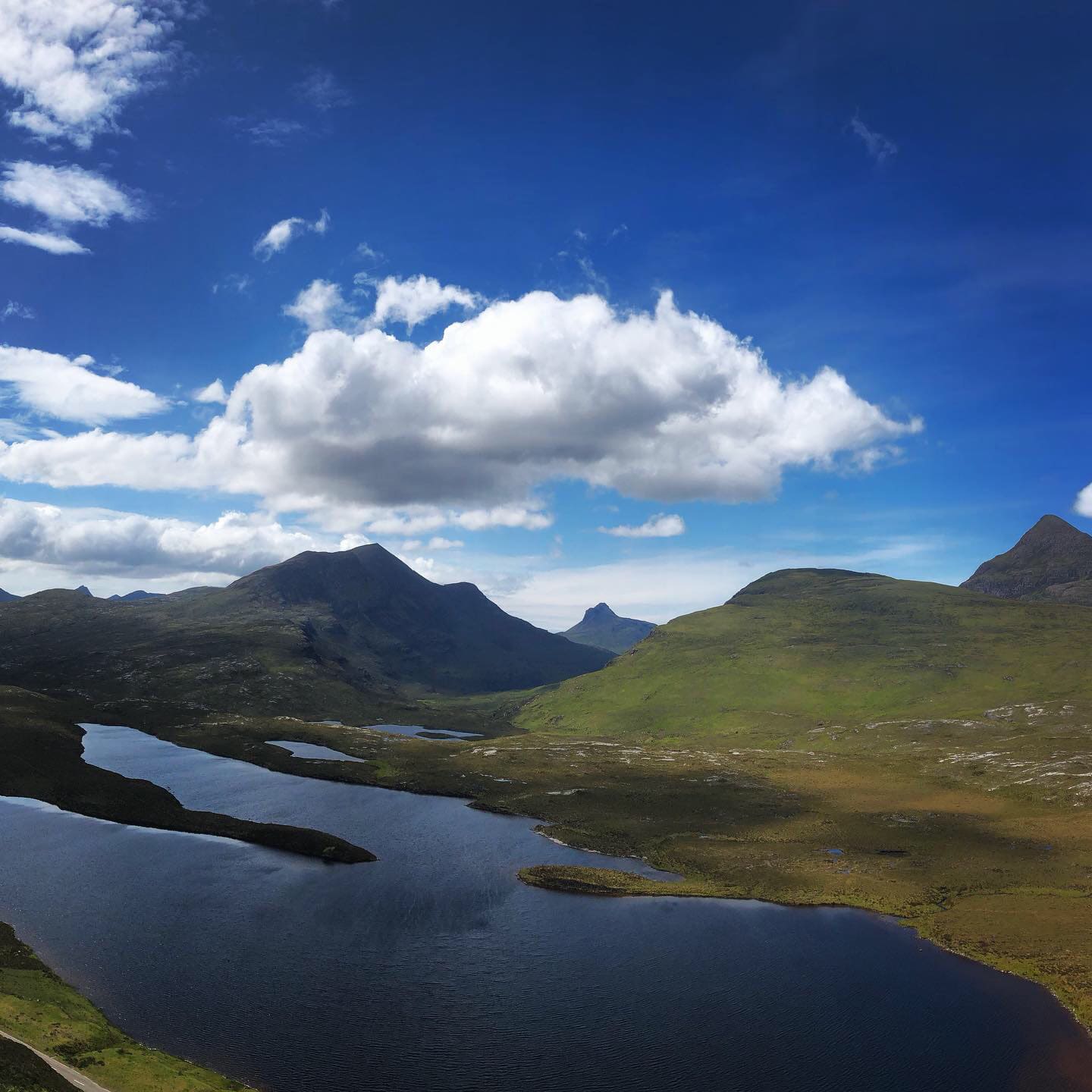 I thoroughly enjoyed my three days hiking with Stuart and Hike Scotland (I joined the group part way through the trip). We journeyed across the Outer Hebrides, taking in the vistas, shores, bodies of water and history. It was just the right mix of hiking and history.
The pace was as we made it and the terrain not too tough. I am not Scottish but I enjoyed all of Stuart's stories whilst visiting ancient churches, historic dwellings and pagan ritual sites.
All the restaurants chosen were quaint spots with good, fresh food. The hotels were comfortable and well furnished, as we took ferries between the islands.
Stuart has the personality of a good guide; upbeat, clever and knowledgeable, with a good sense of humour and a knack for storytelling.
I would highly recommend this tour for anyone who enjoys a healthy outing in beautiful locations, with a good  helping of great stories to accompany the adventure !
Kevin Hymel
Arlington, Virginia, USA
June 2019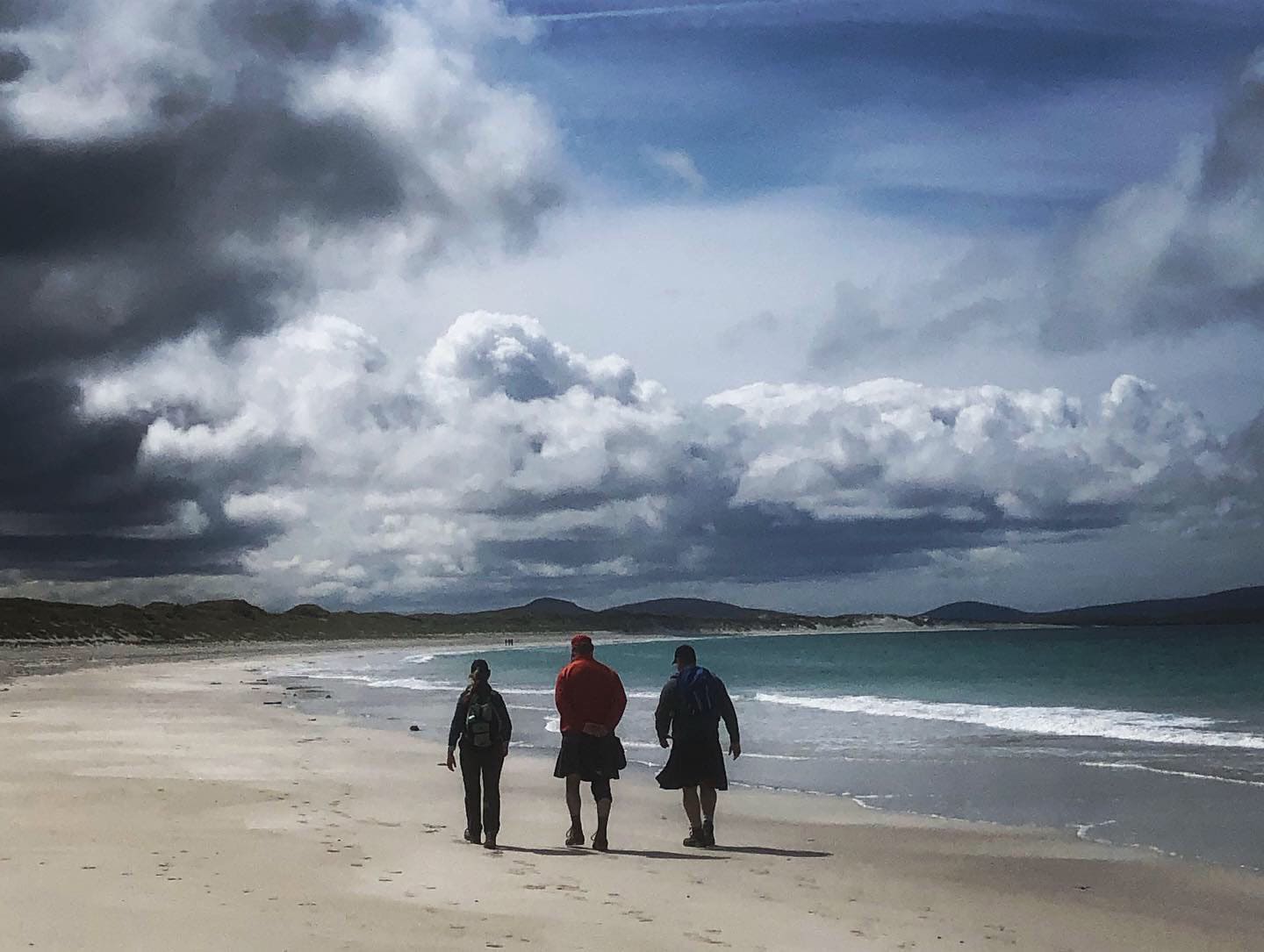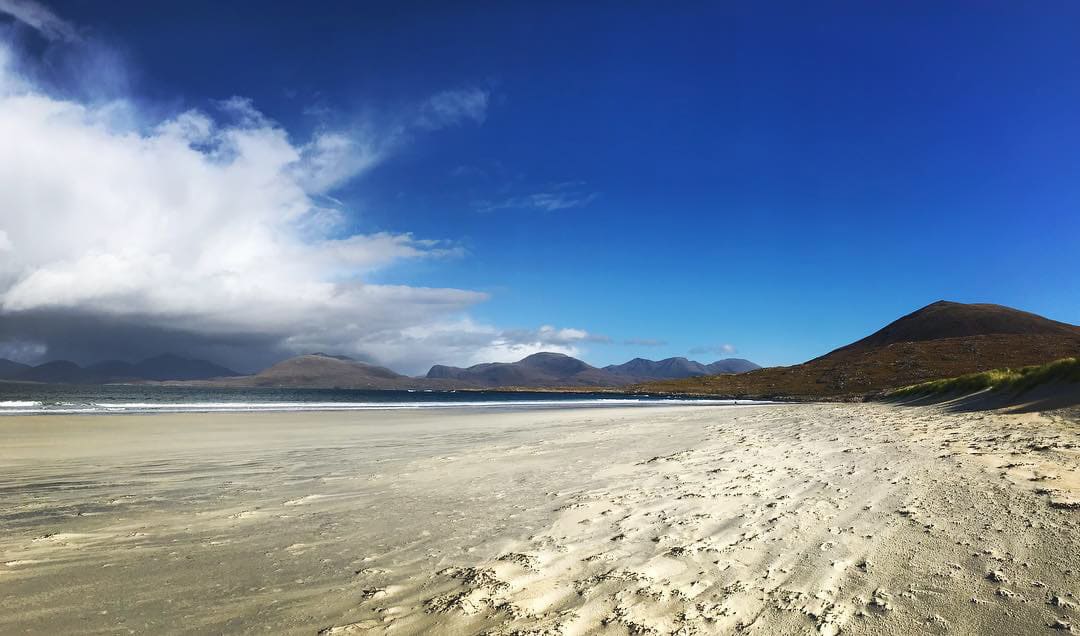 We have just returned from an incredible tour of Loch Lomond and Glencoe. This was our first Hike Scotland tour and it definitely exceeded our expectations.
Stuart is an excellent guide who carefully plans the hikes based on the abilities of his hikers. He obviously loves Scotland and is happy to share that love and his vast knowledge.
The weather was wonderful, the accommodations were good and we enjoyed the cuisine. The hikes were amazing and the scenery was breathtaking. 
We truly had an unforgettable trip with Stuart and Hike Scotland.
Lynn and Terry Fields
Placitas, New Mexico, USA
September 2018
In August 2018 we took our fourth trip with Stuart Hall and Hike Scotland, this time to do the North Coast 500 Tour. As in each of our previous trips, the scenery was magnificent, the food and lodgings were outstanding and Stuart, who knows every square inch of Scotland, handled matters flawlessly.
When Hike Scotland add a fifth Tour, we'll be back !
Ann and Duncan Clarke
Carmel Valley, California, USA
August 2018
My sister-in-law and I just returned from an amazing hiking trip to the Isle of Skye. What can I say, beautiful, natural and quite simply awesome. Our guide, Stuart Hall, showed us a unique side of this island through gorgeous hikes we went on each day. Each days hike, though different in nature, provided us with a view of this island that is not readily seen. Stuart's hikes showed us not only the beauty of this island, but also the history and stories behind it. He is a most fascinating guide/teacher, who really brought Scotland alive for us.
The accommodations were wonderful. The food was so good – in fact Janella and I became addicted to the 'sticky toffee pudding' and we ordered it every night (to compare of course) and now we are back in the United States and going through 'sticky toffee pudding' withdrawal !!
Stuart Hall is an amazing guide who orchestrated a trip of a lifetime. If you are fortunate enough to be able to come to the Isle of Skye with Stuart, it will be an adventure that you will never forget
Thank you Stuart, you were awesome !
Debbie Post and Janella Newman
New Jersey and Delaware, USA
June 2018
I found Hike Scotland and Stuart in 2014, as I was trying to plan a hiking trip in Scotland.  I quickly discovered that I did not know enough about the country to plan it own my own, so a company that would do a custom tour, for our group of seven, was in order. That trip in the Highlands was wonderful.
Shortly after the trip two of us decided we wanted to go back and hike on the Isle of Skye.  We reserved our spot and met Stuart again in May 2018.  As before he added to our experience with stories of Scottish history. 
The weather was fabulous, the hotels Stuart arranged for us were top notch with delicious food and the scenery was amazing. 
The photo of the delightful cove was taken on the first day of our hike. 
Thanks for another great vacation!
Deborah Crane
Colorado, USA
May 2018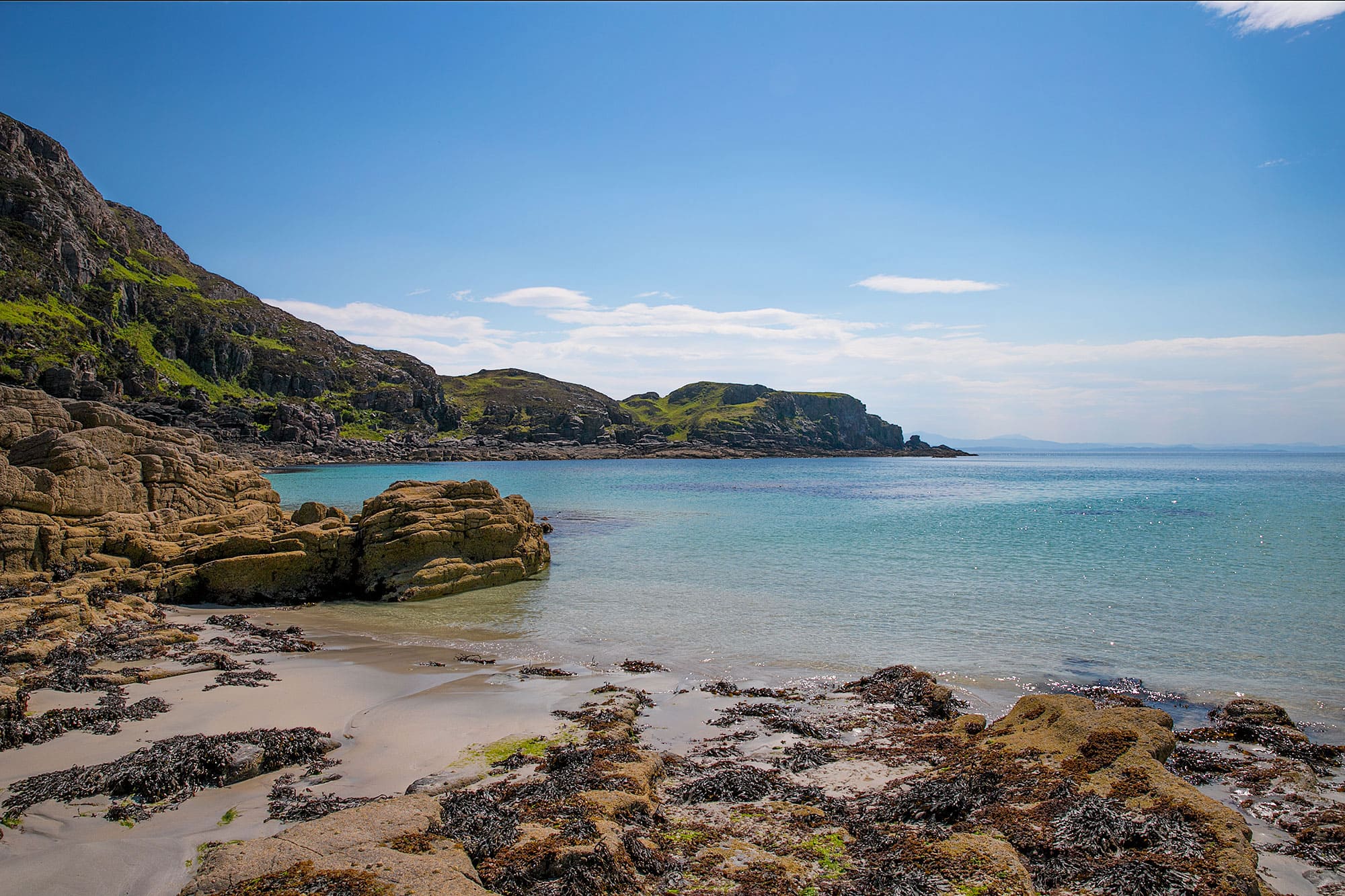 Two years have passed since our group of 9 hikers took our last trip with Hike Scotland to Loch Lomond, Glencoe and the Western Highlands; this time we returned for the Isle of Skye Discovery Tour. It lived up to our expectations and then some. If possible the weather this tour exceeded our good weather of May 2016.
Stuart lead us to both very popular tourist sites such as the Old Man of Storr, but he also shared with us some of the less well known sites and parts of Scotland we'd never have found without him.
We visited Meall Tuath (Rubha Hunish Lookout Bothy), Ramasaig and Lorgill, Oronsay, Point of Sleat, Castle Ewen and the Fairy Glen and saw Neist Point and Macleod's Maidens.
I won't say planning your trip to coincide with the US Memorial Day will guarantee good weather, but it has worked for us for our 2 trips. Midges were no bother either trip.
I have been most satisfied with Hike Scotland and will use them again for any future trips to Scotland's hiking trails.
Vince Gillette
Florida USA
May 2018
We have returned home from our trip, and wanted to thank you for hiking with us around the Isle of Skye. Our four days with you were truly a highlight of our journey!  You brought us to places we would never have found on our own, showed us places of immense beauty to photograph, and taught us about the land and the culture and the sheep. We would definitely recommend your guiding to anyone who wanted to get out there!  Thank you so much. 
Joan & Ed Eastman
Durham, NC, USA
September 2017
We just returned from our second Hike Scotland tour, this time to the Outer Hebrides. Our guides, Stuart Hall and Brian Wilson, led eight of us through peaceful and unspoiled island country, encountering only the occasional cow or sheep or dog, but almost no other people on the "trails". 
From stunningly wide and sandy beaches to rain dampened peat bogs to craggy hills and ocean bluffs, the islands are wonderfully beautiful.  The warm hospitality and great food, provided by the hotels and lodges we stayed in, (including many options for us vegetarians), added to what makes Scotland such an easy and fun place to travel.  
Finally we can't say enough good things about Stuart and Brian who shared not only the physical beauty of their homeland but also the cultural and historical richness that makes it such a special place. They made us all feel welcomed and we look forward to returning in the future.

Gary and Karen Holm
Sebastopol, California, USA
September 2017
Travel To The Outer Hebrides Delivers Beauty and Adventure
Adventure travel offers unique opportunities to see and experience things that most people cannot imagine let alone do. Challenges can be logistical or physical. You have to endure security checks, uncomfortable airplane seats, long waits in airports, jet lag and unexpected and uncontrollable things along the way. But those that love to travel never tire of the wonder that awaits them as each new trip unfolds.
I have just returned from a trip unlike any my sister and I have ever taken. We ventured to the Outer Hebrides, a group of 200 plus islands just off the northwest coast of Scotland. This shared hiking adventure offered us a very different experience. A part of the United Kingdom, the islands are located on the outermost edge of Europe. Its beaches and mountains are famed for their desolate and haunting beauty. The Gulf Stream swings close to the chain of islands resulting in milder than expected temperatures and bright turquoise blue seas that wash on white sand beaches. Our guides took us on paths that were literally off the beaten trail to all but sheep and cattle. We climbed rock covered hills and, walked through boggy valleys, past dark, glassy lochs often reaching a high point with views of endless white sand beaches. We walked in near gale force winds, sheeting rain, and even hail one day. But all this in such an amazing place, sky, land and beach all married in a way it is nearly impossible to describe.
The adventure began with an hour long flight from Glasgow to Barra. We landed on the beach at the only airport in the world where scheduled flights use a beach as the runway. What an amazing way to start our exploration of the many islands making up the Outer Hebrides.
We traveled with six other hikers and two Scottish guides. This trip was not out of any travel catalog. Stuart and Brian, our guides, shared their passion and knowledge of the Outer Hebrides as we moved from island to island. The islands we explored had wonderful names like Barra, Vatersay, Bernera, Eriskay, South and North Uist, Scalpay, Benbecula, South and North Harris and Lewis.
Yes, the walks were breathtaking, but even more amazing was to imagine the history beneath our feet. Cultures that lived on these islands included included Neolithic, Bronze Age, Viking, Pictish, Celtic and Anglo Saxon. One of our last stops was a visit to the Callanish Standing Stones, one of the oldest Celtic monuments on Earth. It is almost impossible to imagine the primitive culture that moved and placed the stones that pre-date Stonehenge and why they created its geometric form.
Our trip to the Outer Hebrides was not about museums, cities or fine dining. It was more about experiencing nature at it most extreme and glorious best. Dramatic skies, vast rolling hills and seascapes like no other I have ever experienced. Yes, adventure travel may not be for everyone, but we found, once again, that each trip offers experiences and newfound appreciation for another part of the world.
Marjorie Anderson
Fernandina Beach, Florida
September 2017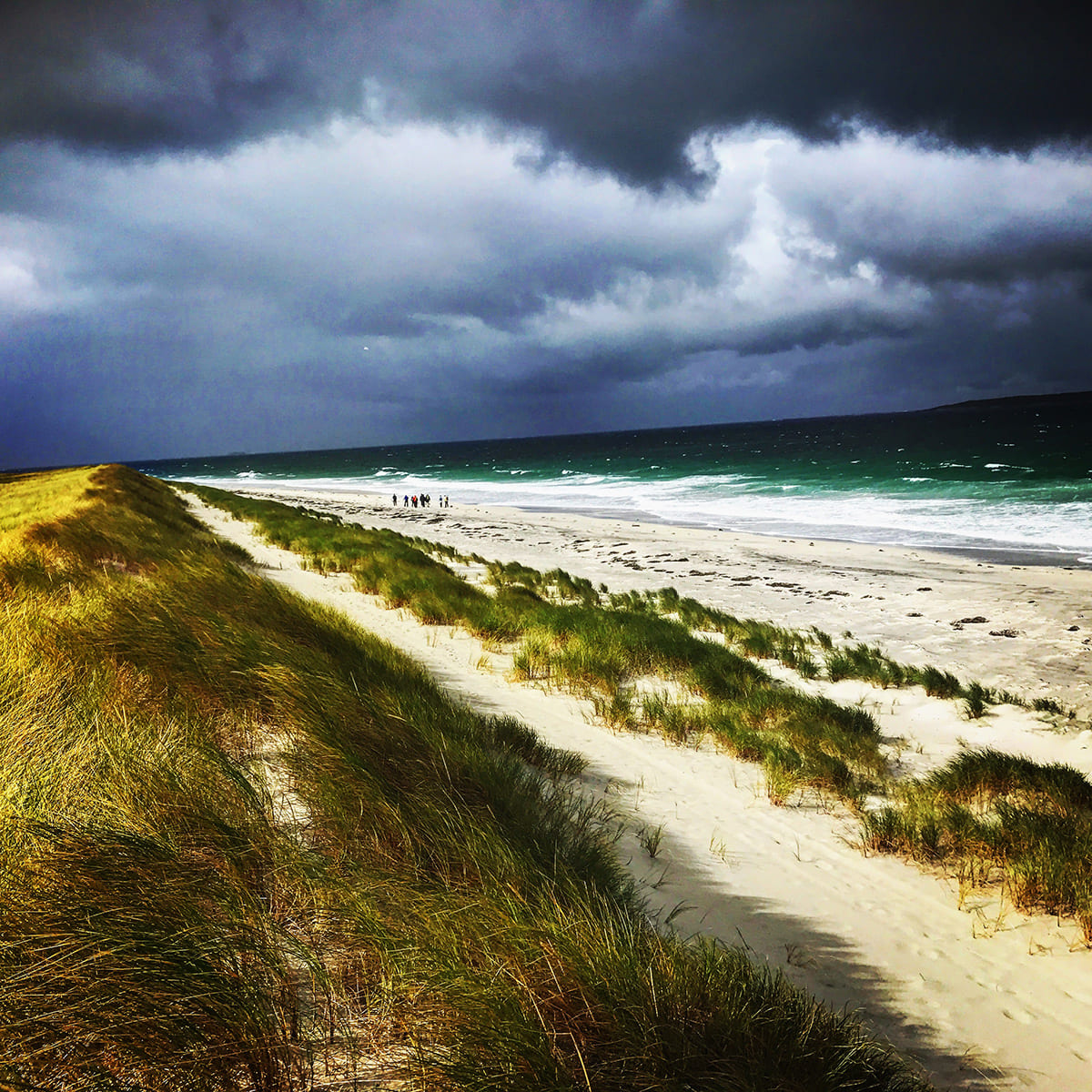 Six of us from Colorado enjoyed a 10-day hiking trip in the Western Highlands and Isle of Skye where HikeScotland offered a superbly diverse itinerary that we collectively customized to meet our desires. Stuart and Ruth shared their deep knowledge and passion about the spectacular natural world and rich human history of the area. Their exemplary professionalism resulted in a seamless well organized yet flexible trip from early preparation to the end.
Hikes along ancient road and trail systems offered amazing vistas across purple expanses of heather and grasslands at the foot of the rolling moors and high Munros coming alive with cascading white waterfalls and vibrant clear rivers.  On Skye, hiking along the rugged shoreline above multi-hundred-foot cliffs on seldom traveled routes offered breathtaking vistas of the jagged coast and adjacent islands. The local food, from classic pubs to fine dining, hosted in a nice variety of classic "hikers" inns to elegant updated quaint castle inns, always accompanied by warm Scottish hospitality, added to the ultimate Scotland experience – as did the sampling of local single malt whiskies and refreshing local ales and lagers.
We would all highly recommend a hiking trip with HikeScotland that comes complete with friendly professional guiding in spectacular scenery and immersed in the deep history and culture of Scotland.

Peter and Cathy Dea
Crested Butte, Colorado USA
September 2017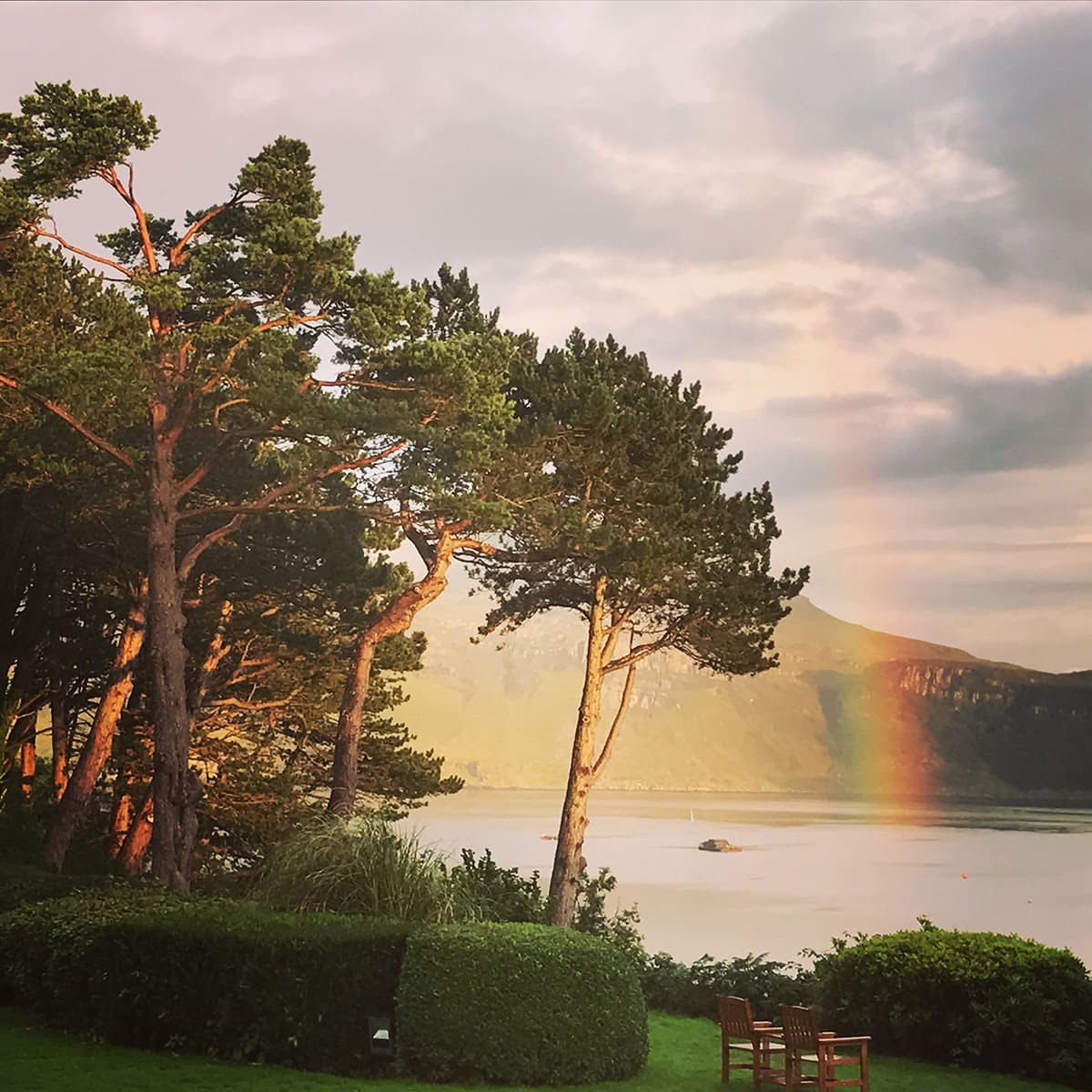 Our third trip with Hike Scotland promised to be an awesome one. We started our trip in Inverness to follow the North Coast 500 route. The scenery and nature is definitely what you can expect on Scotland's west coast: breathtaking and a lot of wows as we went. Pure white sand beaches, without another soul to be seen.

The hikes that we were organised by Stuart's team were top level and took us to some remote places where we spotted raptors including sea eagles, deer, seals and other wildlife. The canoe trip on remote lochs was one of the highlights of our trip.

The accommodation and meals were top quality, with very comfortable hotels and sumptuous local fayre, including fresh seafood, Highland beef and venison.

When we ended our trip in John O' Groats, at the northern most tip of the UK, we wanted to stay longer and explore more of this beautiful region.

So in short, a trip to be highly recommended especially if you want to go off the beaten track. Thank you Stuart and the team and we hope to be come back for a fourth trip.

Hans van de Velde
Antwerp, Belgium
June 2017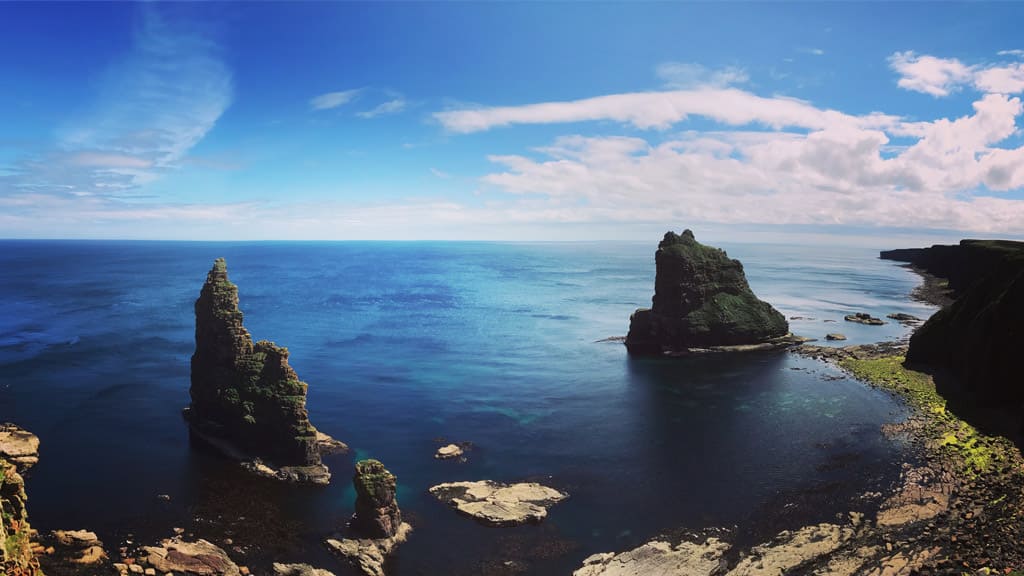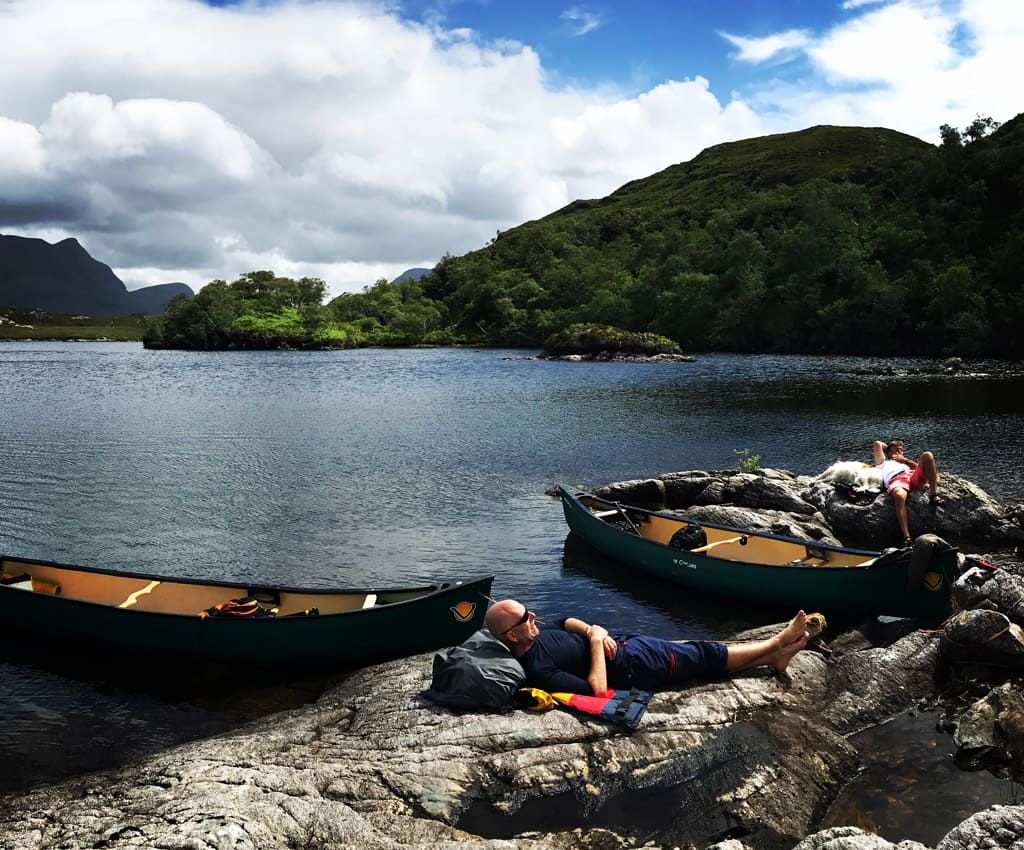 In choosing Hike Scotland, I had hoped to experience the real Scotland, it's land and people.  It was that and much more, all first class and well organized.  The accommodations and food were superb.  Our hikes of the beautiful Glencoe/Loch Lomond area, the hallowed grounds of my ancestral clan, were brought to life with the knowledge and stories imparted by Stuart and Ruth.  Their amenable, relaxed nature made for a truly memorable week.  I would do it all again, but the Outer Hebrides now beckon.  Hike Scotland is a rare find – don't pass them up.
Terri Walker
Boone, NC
June 2017
We hiked with Stuart Hall and Hike Scotland in 2012 (Loch Lomond and Glencoe to Mallaig), in 2014 (Isle of Skye) and 2016 (Outer Hebrides). We will likely hike again with Stuart in 2018. The hiking is magnificent, as is the scenery. Stuart is flexible; a hike can sometimes be structured to match one's ability: strenuous or moderate. The dining and accommodations are outstanding. Stuart seemingly knows every square inch of Scotland. He also knows and loves it's history and culture. We recommend Hike Scotland without reservation.
Ann and Duncan Clarke
Carmel Valley, California, USA,
September 2016
How do you describe the trip of a lifetime ? First, you get the whole family (except the wee ones) to go – eleven of us – ranging in age from 9 to 72. Then you find the absolute best guy on the planet (Stuart Hall) to put it together. Then he drives you around and walks you around and sails you around this most beautiful country to see it up close. You trust him to find the perfect lodgings for each spot, provide the finest food and understand your group so well, that he knows which hikes you can all manage and leaves everyone thinking it's the best trip they've ever had. And the evenings are full of a glass (or two) and giggles and camaraderie and  before you know it, you've adopted family number twelve ! Stu-art ! Stu-art !
Marilyn Gibb (and family)
Austin, Texas, USA
August 2016
We are just back from a week's hiking trip on the Isle of Skye with Stuart Hall and his team. Terrific experience and we recommend it highly. Stuart and his colleagues are Scots who know their country well and are eager to share. Every day brought a choice of hikes (from easy to moderate), done at a reasonable pace and with illuminating commentary from our guides. Each evening spent at very comfortable hotels, with superb dinners arranged to give us a broad choice of dishes. We tended to choose the seafood for which Skye is well known, but there are many choices. First rate !
Bob Davis
Estero, Florida, USA
June 2016
Two years ago I decided I wanted to hike in Scotland with friends. I quickly discovered that trying to plan a trip in another country was a bit daunting. After much research I contacted Hike Scotland and described what I had in mind. With just a few e-mail exchanges, Stuart responded that he could put together an itinerary that would meet our needs; he was correct.
We completed our trip in May 2016 and it was as wonderful as I had anticipated. Our group of seven enjoyed fabulous scenery, old inn's with loads of character, amazing weather and many history lessons about Scotland. Stuart's love of the Scottish Highlands and knowledge of Scottish history added a personal touch to the trip that our group appreciated. I have many fine memories of Scotland and hope to make a return trip some day.
Deborah Crane
Colorado USA,
May 2016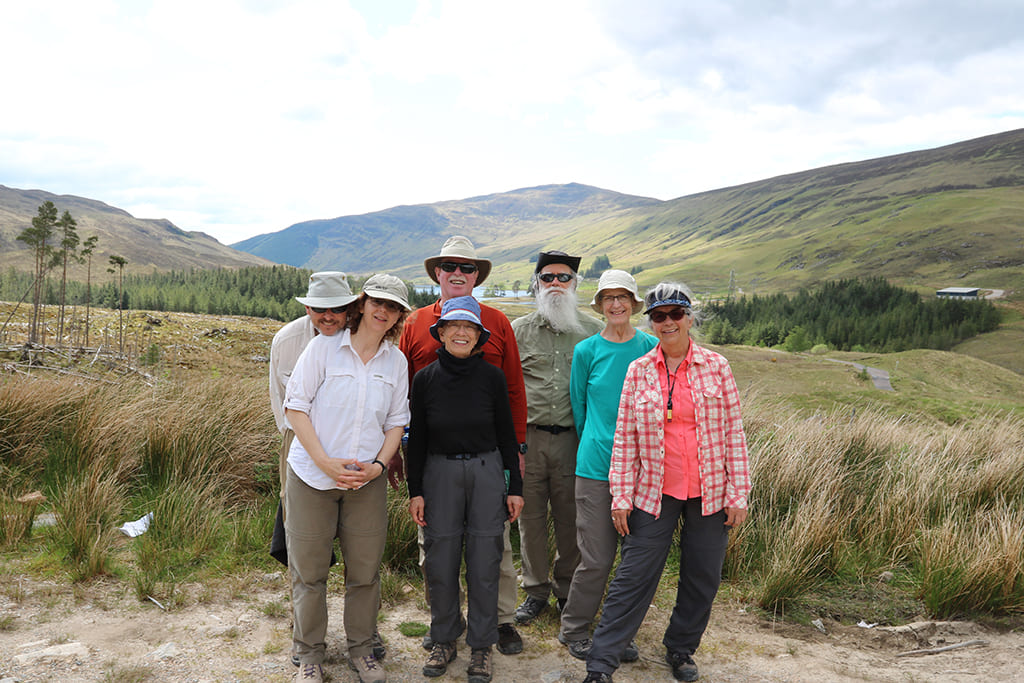 I was part of a small group of seven that recently hiked the Loch Lomond and Glencoe trip. Stuart was easy to deal with ahead of the trip and a very efficient guide to have looking after us. He was just as concerned about our group enjoying ourselves after the hikes as he was watching over us during the hikes. He allowed us plenty of time away from the trail to relax as we wished.
The trip itself was a very pleasant mix of the Rob Roy Way and West Highland Way. We hiked a mix of surfaces, from bike trail to old military roads, to the more familiar dirt and rock we were used to hiking in the Western US. The inn's and hotels we stayed at were well chosen for our group. I think the Clachaig Inn was my favourite and not just for their beer selection !
When I decide  to return and hike the Isle of Skye, Hike Scotland will be the company I select to show me the way.
Vince Gillette
Florida USA
May 2016
Review of Hike Scotland, by Ted Finnerty
Private Guide from 25-29 September, 2015
What a fantastic experience. My wife and I wanted to spend a week hiking through Scotland, and so we took to books, maps and the internet to start our search. I pretty quickly came across the site for Hike Scotland and read some of the group hikes that they offered: the routes looked fun and the reviews looked great. It quickly became the gold standard of offerings as I continued my search. After a week of researching, I decided to email Stuart and start a conversation directly. This was my immediate window to confidence in my choice. Though I lived in Boston, USA, he replied quickly and thoughtfully over email. Within a day we had a route, a price, and all lodging fully decided – all over email exchanges!
The fun started when we met Stuart as he picked us up at our Edinburgh hotel. We drove towards Glencoe to hike in the Ballachulish range, home of the weeping hills, to kick-off our five days together.
We had terrific times together on our hikes, packing lunches and snacks, summiting Munro after Munro – a Scottish classification of mountain elevation that instantly makes sense and connects you with the livelihood of the land. We stayed our first night in one of the most stoic hiking/skiing lodges you can come across, and we decided to modify our Day 2 plans with the good weather forecast. The flexibility of a private guide like Hike Scotland allowed us to adapt the schedule without a question, and we hiked Ben Nevis the next morning (even had a bold bagpiper at the summit)!
We ventured to the Isle of Skye for the remainder of our time together and home-based out of the Sligachan Hotel.
The hiking is incredible: from steeps to cliff walks towering 1,000 feet over the sea, to ridge running and waterfalls. The views are equally breathtaking. We had a great mix of hikes, foods, castles, whisky, Rugby World Cup, and local culture (my wife and I still love a little girl's line in Carbost, "Mommy, daddy, come quick! I just saw a real, live mermaid!!" – we all had to turn).
One of the best parts of the trip is Stuart himself. He was the penultimate host for our entire trip: a wealth of Scottish history and one hell of a personal photographer! He brought us to pristine locations, inhabited only by rare sheep, and to lively overnight establishments. He adjusted our daily schedule and routine to adapt to our likes and the weather. He brought new meaning to the phrase, all inclusive.
Not only would I recommend Hike Scotland, but I would strongly encourage you to get creative and maybe have some fun with what Stuart can bring to the table. Start thinking about the trip early, maybe focus on a shoulder season, and engage directly with Stuart to plan your getaway. You will leave a steward of Scottish hiking history and you will yearn to pay a return visit.
Thanks again Stuart, sláinte!
Ted Finnerty
Boston, MA, USA
September 201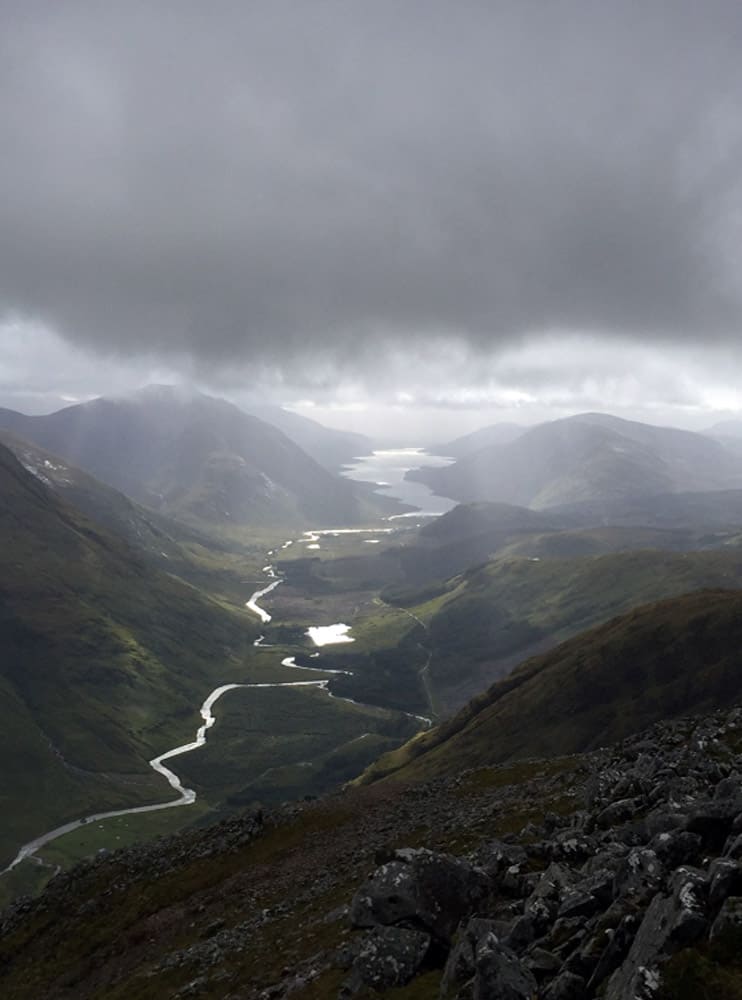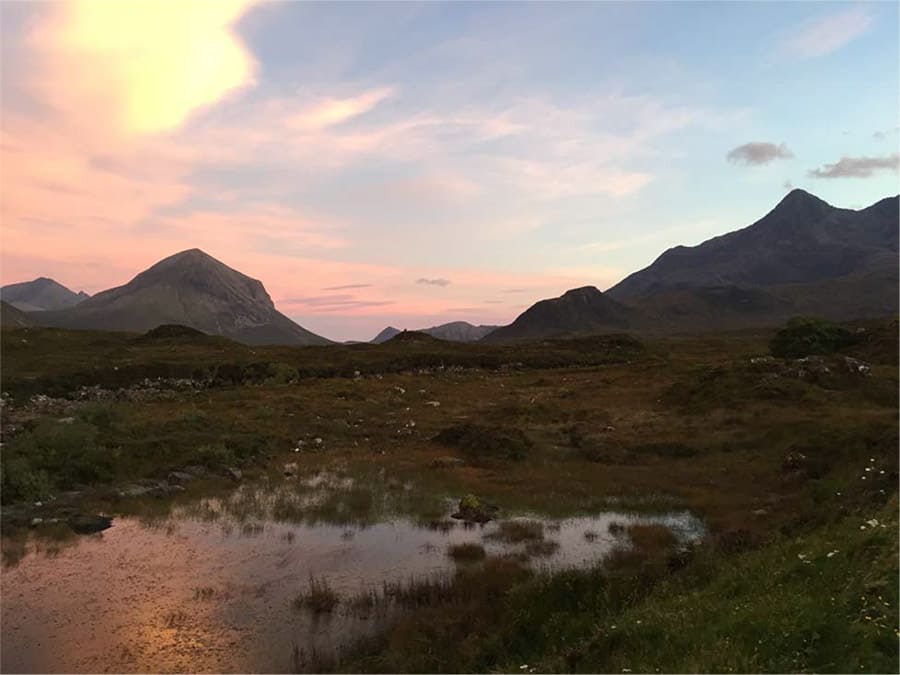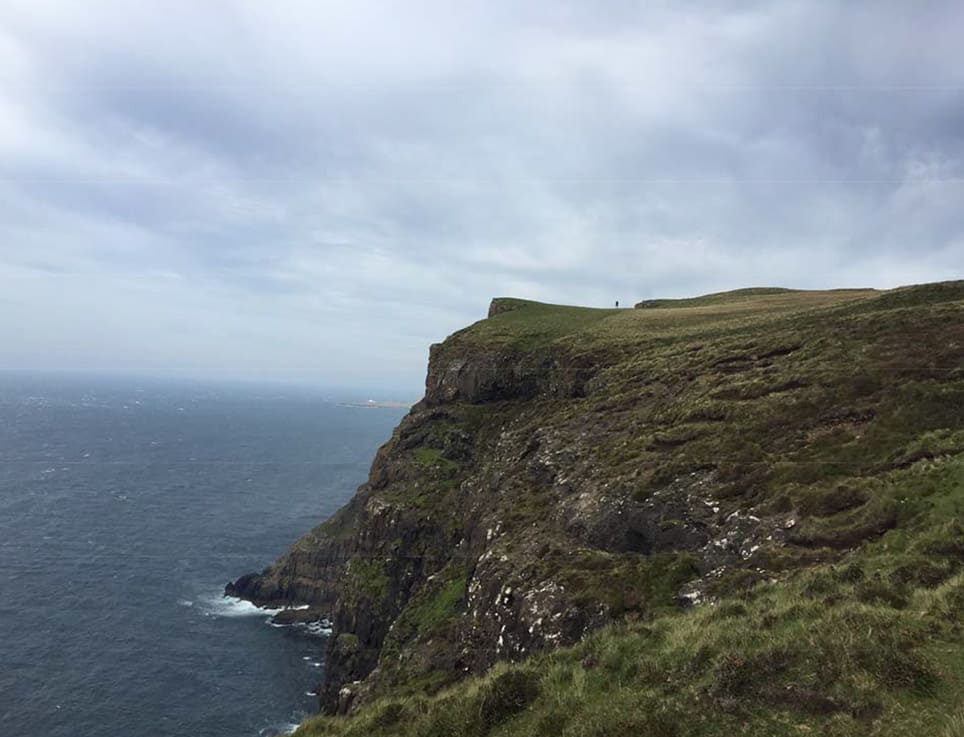 Our Great Trip with Stuart
July 22, 2015
We had such a fantastic, memorable, and yes, I'd have to say dazzling time hiking the Isle of Sky with Stuart and a group of five strangers from Toronto and Italy that once we were home, we had to puzzle out just what made it so terrific. Was it the beautiful landscape we hiked? Was it the ease of making new friends, sharing a bottle of wine and a hearty laugh every night over dinner? Was it as simple as being on a much-needed vacation at last, in a place with such astonishing beauty as Scotland? Or was it Stuart Hall, our guide, the man who crafted the experience in more ways then we realized?
I could talk about these nice people, the sparkling hotels in Portree and Cuillin Hills or the sumptuous quality of each meal. But frankly, I'm going to give all the credit to Stuart. The trip was incredible because of his art, or skill, or maybe just some aspect of his personality.
If you've been to Scotland, then you already know the Scots are the most friendly, garrulous people in the world with a sly sense of humor that emerges rather quickly. Stuart was all that and more. He was like a magician. I could try to describe the way a magician's hands work even if, after watching very closely, I can't quite pin down how such astonishing moments unfold.
But, at the risk of completely embarrassing the man, let me try. Consider the following points:
THE WEATHER
It was late June and it rained or at least drizzled a little everyday that we hiked. Strangers we met in the hotel bar lamented how they'd not been able to set foot on a single hillside. We tried to be kind and not laugh. Because we hiked up the Cuillin Mountains, Ramasaig Bay, Glen Brittle, McLeod's Tables and more. That's because Stuart spent his mornings watching the weather, altering the plan, figuring out from his extensive knowledge of Skye exactly where we should go and also what part of the day to hit which of Skye's many trails. So, he'd change the plan, taking us to the Skye Museum of Island Life in Kilmuir or Castle Dunvegan or Talisker Distillery to get away from those brief but intense rainy downpours. The weather simply didn't matter.
DIFFERENT SKILL LEVELS
I was probably the youngest person in my group, which I learned offered me zero advantage. I was last among the hikers, trailing behind the others as they scrambled up the hillside like billy goats. As always, there was Stuart when I needed him, waiting for me by the turn in the path, helping with my hiking poles and taking some of the weight from my backpack. (Yeah, I was carrying up four paperback books and no water. A dumb move that Stuart remedied.)
Somehow, Stuart was able to zoom ahead to the top of the Trotternish Ridge (with my books in his pack), making sure the rest of the group didn't continue try to ascend the last, ridiculously steep set of peaks just above and beyond the Old Man of Storr without the benefit of his watchful eye.
THE SOCIAL ASPECT
My wife and I had to arrive a day late, after the group had presumably bonded. There were two semi-retired couples from Toronto who knew each other from summer camp days (!!) and a lovely woman traveling solo from Italy. And then came us and late at that–the gay couple from San Francisco. Could it have been uncomfortable? Sure. However, by nightfall, we were all laughing so hard. By day, everyone was conversing in the van and on the trail. I enjoyed how everyone encouraged me, inspiring me over those boggy parts or providing a quick lesson in using the hiking poles. Bravo!
So I must ask—was it the luck of the draw that our randomly organized group turned out to be some of the nicest folks you could encounter? Or is "social blending" yet another skill that Stuart draws upon when needed? I think so, because he engaged us with conversation both witty and informative. He drew us out, putting each of us at ease, and getting everyone talking and laughing and out on the trails to have a great time.
LIFETIME MEMORIES
Like any great trip, there's so much more. I should mention the sing-along we had in the bar on our final night. (What Stuart termed "a wee sing-song.") Or the moment we stood transfixed on a high ridge of the Diurinish Peninsula. We stopped mid-hike to watch a sheep crofter drive his orange ATV to the cliffs above Ramasaig Bay and beep his horn. That sent his two dogs into the fields, coaxing hundreds upon hundreds of sheep to scramble down the hillside. They organized themselves into two single-file lines, a long trail of white wooly sheep obediently heading down the valley for their summer shearing back on the farm. We couldn't move until those dogs jumped back into the ATV, the great distance not obscuring their obvious pride in a job well done.
Everyone in our group felt the magic of this experience, but since I'm the journalist, I hope I've captured a touch of what made hiking with Stuart so great.
Having found this testimonial and the Hike Scotland page, your own memorable experience is right around the corner. Congratulations! As for the rest of us, we are now back to work (sigh), saving up for a return trip. Right now, I'm dreaming about hiking the Outer Hebrides where I'll probably still be several paces behind Stuart and probably the last one on the trail. Which will be perfectly fine. Can't wait!!
Barbara Tannenbaum
San Rafael, California
July 2015
The beach landing at Barra airport ("times subject to tides") was the first clue that hiking the Outer Hebrides was going to be a unique adventure for us. And every day was better than the last with trails to ourselves (except for a "few" sheep and cows), visits to heritage sites and pre historic structures, ferry crossings, the best hotels, food and wine the Hebrides has to offer and the company of like minded, experienced travellers as fellow hikers. And two of the most likeable and outdoor-experienced Scotsmen, Stuart and Brian, leading us.
Every day the hikes were different yet always provided stunning views, from the most beautiful flat, sandy beaches anywhere to treeless moors of peat, scrambling up a "wee" hill to view freshwater lakes and the sight of the fingers of the sea that reach into, surround and define these beautiful islands. We will never forget this trip – truly a trip of a lifetime (except we want to go back !)
Eve Benesh and John Crowley
Minnesota, USA
June 2015
We just returned from Hike Scotland's tour of the Outer Hebrides (June 20150. It was the third time we have had the pleasure of being led on a hiking tour by Stuart Hall (the Highlands in 2011, the Isle of Skye in 2013). He was joined by his friend and fellow guide Brian Wilson. There were 9 of us hikers, Stuart and Brian had 2 vehicles, so it was easy to get from place to place and to allow for the flexibility and accommodation of individual needs as necessary. All of the ingredients of a totally successful hiking tour were in place: first of all, of course, the magnificent islands of the Hebrides – their beauty, ruggedness, white sand beaches, beautiful mountains, open sky and incredible unspoiled open spaces; secondly, an itinerary that was built to highlight the very best that the natural Hebrides can offer; third, two guides who are highly skilled and experienced, organised and flexible at the same time, and best of all, great guys who are great fun to be with; fourth superior accommodations and food and wine that was delicious and bounteous; and finally, fellow hikers who were collegial and fun.
 Most of the hikes were easy to moderate for an experienced hiker and a couple were more challenging, but those who did not feel up to them were provided with easier alternatives, so everybody was well served. We cannot stress enough how well Stuart and Brian took care of each of us on the trail as well as off. Thoroughly professional and we felt safe the entire time. We would recommend Hike Scotland to any one who wants to experience the beauty of the Outer Hebrides and the pleasure of Stuart's and Brian's company !
Wayne and Barbara Smith
New Orleans, USA
June 2015
Hiking the Outer Hebrides with Hike Scotland was really the trip of a lifetime ! To be able to hike with these two guides, Stuart Hall and Brian Wilson, who know so much about the terrain, the history of Scotland and who become your friends along the way is a truly wonderful experience. We hiked eleven islands from Barra to Lewis and each one was unique, offering us beautiful walks along the endless white sand beaches, hillside walks in the grass and heather with stupendous views on every side and extra challenges up higher hills for those who wanted them. Along the way were historic Celtic ruins, Medieval chapels and mystical ancient standing stones. We marvelled at many kinds of seabirds, seals and the amazing Eriskay ponies. At the end of every day we stayed in lovely inns for a wee rest before joining the other guests for dinner where we enjoyed delicious food, wines, laughter and companionship. Stuart and Brian took excellent care of all of us, making sure that every one of us, of every ability, had a fantastic experience. I loved it so much I would repeat the trip all over again.
Anna G 
CT, USA
June 2015
Early June brought 10 days of a much –  anticipated special adventure; exploring the quiet mystery of the Outer Hebrides with Hike Scotland. It was a rewarding series of days with guides Stuart and Brian, rich with walks of varied landscapes filled with awe and ancient history. Our lodgings were clearly selected with thoughtful care, for engaging hospitality and glorious food showcasing local seafood and cultural flavours. Hike Scotland very beautifully planned and shaped a wonderful trip for this solo travel to an –  off –  the – beaten – path part of the world. I would hike with them anywhere !
Linda F
Boston, MA
June 2015
"We have just returned from a private and customized Tour (combining, Skye, Loch Lomond, Glencoe and the Torridon area), with our very flexible, knowledgeable and accommodating guide, Stuart. What fun we had hiking with the heather in full bloom and also seeing many of the Highland's historical and cultural sights…and always ending each day in another beautiful oasis, with good food, drink, Stuart's great  humour and wonderful storytelling. It was like travelling with a good friend. Thanks Hike Scotland, for allowing us to fulfil our Scottish dream trip and experience all that the Highlands have to offer. We are already thinking about our next Hike Scotland trip…Outer Hebrides !"
Karen and Gary Holm
California, USA
September 2014
"Thank you Hike Scotland for a very special time in Skye. We appreciated your knowledge, enthusiasm and patience as you literally walked us through hikes and history. Even the eventful weather couldn't dampen our spirits; we were Skye – high throughout!"
Kiko Itasaka, Julian Prictoe, Dianne Festina and Lucas Wallace
New York and London
August 2014
"My brother and I were looking for a tour of Scotland that combined a certain physical challenge, beautiful surroundings, good food and last but not least lots of fun. Stuart from Hike Scotland gave us all of this during our Glencoe and Isle of Skye Tour. He adapted the walks to our personal needs, took us to the most idyllic locations in Western Scotland and shared some of his history and geography knowledge with us. We even learnt some Scottish and Gaelic.
For us it was exactly what we were looking for and we can't wait to return for one of the other Scottish Tours. If you are looking for a tailor made trip to discover the beautiful landscape of Western Scotland, don't look any further than Hike Scotland."
Hans and Geert Van de Velde,
Antwerp, Belgium
July 2014
"The landscape and the Isle of Skye is breathtaking and when combined with the expertise of our hiking guides, Stuart and Laura, we had an unforgettable experience. Their knowledge and passion for the history and beauty of this country enhanced our outings. They tailored the trip to our individual needs and provided us with great lodgings and first class food and drink.
Thanks to the two of you for making our week so special ! We couldn't have been happier and we plan to come back again."
Julia, Jerry, Sandy, Katie
Florida, USA
June 2014
"My partner and I were looking to do hiking tour of Scotland's mystical mountains and knew from reading various tour books that we would need an experienced guide as quieter trails are often unmarked or obscured. Stuart  is very knowledgeable about the land, as well as alternative routes (which was needed a few times when winds were too strong etc). The hikes were challenging but rewarding and he would tell us interesting titbits of the land's history and Scotland in general along the way. He was also great at providing different options when the weather was less than ideal for a more challenging mountain hike, taking us on a scenic beach walk and then to see Dunvegan Castle (which was wonderful !). The Isle of Skye is a beautiful place and I would highly recommend using Stuart as your guide for a trip there or anywhere else your planning on visiting in Scotland. We have fallen in love with the beautiful mountains of Scotland and will definitely be in touch with Stuart the next time we visit the country to check out another area."
Abby Bernstein and Evan Diamond
New York, USA
August 2013
"My wife and I recently spent a very memorable week hiking on the Isle of Skye on a tour led by Stuart Hall. His knowledge of the Islands history and culture really enhanced our enjoyment and gave us an extra appreciation of the rugged landscapes. He was very flexible when arranging our itinerary each day, taking into consideration weather conditions and our preferences while ensuring we saw the most beautiful spots away from the busiest tourist traps. The hotels he arranged for the evenings were first class and will live long in our memory.
I would highly recommend Stuart and his company Hike Scotland to anyone wishing to enjoy the Highlands of Scotland and the Isle of Skye."
Rasa and Neil Wilkinson
Toronto, Canada
May 2013
"Thanks Stuart for the recent climbing/hiking experience we shared. The preparation and attention to detail was second to none, the history lessons enlightening, the tasks challenging yet richly rewarding and the understanding of the client's goals and objectives to be gained from this adventure were always your primary focus. Although 62 years of age, I often felt much younger as each discipline was successfully completed and would recommend this type of activity to any person, any age who was trying to clear the mind and hone the body.
Starting to plan another excursion in 2014 and expect to bring along a couple of friends who have the false mind set that their bodies are past the challenge."
Tony Boddice
Brisbane, Australia
October 2012
"We highly recommend Hike Scotland's Loch Lomond & Glencoe Tour for anyone who enjoys walking in a stunning environment. Imagine having close personal friends who live in Scotland. You go to visit them, and they spend a week taking you to their favorite places to walk, to lodge, and to dine, all the while giving you their insights into the local history, lore, and culture.
Our guides, Stuart Hall and Ruth Hackney, created exactly such an experience. We spent our days walking trails where the unique beauty of the Highlands unfolds from a perspective that could never be seen from a car window. Our guides were always eager to share the best vantage points for special views. At the end of the day we were just a bit tired, but enchanted, and could not wait to start again the next day."
Mary and Kevin Cantley
Atlanta, Georgia, USA
July 2012