The Outer Hebrides is an astonishing 130 mile long archipelago lying 30 miles northwest of the west coast of Scotland. It is a land steeped in ancient history with mysterious standing stones and neolithic remains left by past inhabitants of these islands.
Each of the 200 plus islands offers pristine white sand beaches, a mix of breathtaking scenery and rugged landscapes with amazing wildlife along with a rich, vibrant and unique Gaelic heritage. It is truly one of Europe's last remaining wildernesses.
With its gorgeous white beaches, wild moors, jagged peaks and unique Gaelic culture, the Outer Hebrides is a place of striking contrasts.
These islands have been inhabited for more than 6,000 years and many of the ancient symbols of a bygone life are still clear for the visitor to see. There are 55 sites of Special Scientific Interest, as well as two National Nature Reserves. The islands boast golden eagles, corncrakes, basking sharks and bottlenose dolphins as well as 370 different bird species. The islands are renowned as a natural larder, with talented local producers delivering premium Hebridean fare, including smoked salmon, fresh shellfish, succulent beef and lamb.
Also included in our Outer Hebrides adventure is a full day trip to St Kilda, the islands on the edge of the world, some 50 miles out in the mid Atlantic.
Outer Hebrides & St Kilda - Tour Overview
The Outer Hebrides is unlike either of our other two tours, in that due to the remoteness of the islands, we fly both in and out of the Hebrides, thereby foregoing a very long road and ferry transfer and enabling us to spend more time seeing the islands.
We will meet in Glasgow and make our way from the airport there to Barra on the south end of the archipelago, where we will begin our journey from south to north using ferry and causeway to snake our way north through the islands of Vatersay, Eriskay, South Uist, Benbecula, North Uist, Berneray, Harris and Lewis, before finally returning to the mainland from Stornoway. As well as the gorgeous white sand beaches that they are known for the stunning scenery of the Outer Hebrides inspires all manner of creative people who run small art galleries and craft studios and we will have a rare opportunity to marvel at the ancient archaelogical treasures that make this archipelago such an important part of ancient Celtic history.
Finally, in summer the low lying coastal plains up the western seaboard, known as the machair, are carpeted in vibrant colourful wildflowers, an awe inspiring site to take home with you and locations we will have the chance to see throughout out Tour.
Also included in our Outer Hebrides adventure is a full day trip to St Kilda, the islands on the edge of the world, some 50 miles out in the mid Atlantic.
These amazing islands are home to Europe's greatest collection of seabirds, including puffins, gannets, fulmars, kittiwakes, great skuas and migrating whales, dolphins and porpoises. These spectacular islands are as stunning and atmospheric as anywhere in the world and will provide memories that will stay with you forever.
This tour is six nights and seven days long running Saturday to Friday.
Tour starts and finishes in Glasgow (however, we do have an optional extension to 9 nights and 10 days; see itinerary below; please contact us for details and costings)
Meeting point and time; Saturday 9am, The Holiday Inn, Glasgow Airport.
Departure point and time; Friday/Monday 4pm (approximately), Glasgow Airport.
All meals while on tour, including wine or beer with evening meals.
All accommodation while on tour with en-suite facilities (own bath).
Expert guides with you for the duration of the tour.
Private transportation throughout the tour, including domestic return flights to the islands.
Entrance fees and special events as noted in the itinerary
Trip Grading / Activity Level
This beautiful journey through the Outer Hebrides will appeal to walkers of all abilities and inclinations.
The walks will vary in length from 3 to 7 miles per day (5 to 11.5kms) or approximately 2 to 5 hours of walking with longer or shorter options available on most days.
Most walks involve some elevation and gain loss, although there are also many flat sections.
The walks are typically along white sand beaches and across open moorland, where you are never far from the ocean. Most of the trails are good underfoot, although some sections may become muddy after rainfall.
Good quality waterproof hiking boots are essential.
Outer Hebrides & St Kilda - Tour Dates 2022
Week commencing Saturday 14th May – Friday 20th May 2022 (7 days)
Week commencing Saturday 6th August – Monday 15th August 2022 (10 days)
Please note that it is possible to make a three day extension on this tour, becoming 9 nights and 10 days. If you wish to discuss this option please contact us for more details and costs.
£3295 / $3995 per person
Single supplement; £295 / $395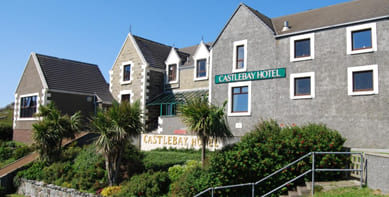 Castlebay Hotel, Barra
A very warm welcome awaits us at the Castlebay Hotel overlooking Kismuil Castle, the harbour and the Isle of Vatersay. A perfect base for exploring the most southerly of inhabited islands, the hotel boasts fine food, a well stocked bar and is a stones throw from the airport from which we make our short flight from the mainland.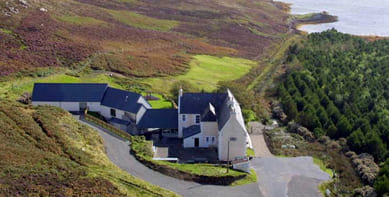 Langass Lodge, North Uist
This beautiful ex hunting lodge is perched overlooking Loch Eport with wonderful views of Ben Eaval (the islands tallest mountain). It is a beautifully updated small hotel, run by the same owners for 20 years with wonderful suites and a restaurant that many believe to be the best on the islands, run by one of the owners, John Buchanan. A perfect base from which to explore the wonderful area of North Uist.
"Stuart's hikes showed us not only the beauty of this island, but also the history and stories behind it. He is a most fascinating guide/teacher, who really brought Scotland alive for us."
Debbie Post and Janella Newman
New Jersey and Delaware, USA
"Stuart's hikes showed us not only the beauty of this island, but also the history and stories behind it. He is a most fascinating guide/teacher, who really brought Scotland alive for us."
Debbie Post and Janella Newman
New Jersey and Delaware, USA
"We journeyed across the Outer Hebrides, taking in the vistas, shores, bodies of water and history. It was just the right mix of hiking and history."
"From stunningly wide and sandy beaches to rain dampened peat bogs to craggy hills and ocean bluffs, the islands are wonderfully beautiful."
Sebastopol, California, USA
"I would highly recommend this tour for anyone who enjoys a healthy outing in beautiful locations, with a good helping of great stories to accompany the adventure!"
"We will never forget this trip - truly a trip of a lifetime!"
Eve Benesh and John Crowley
"We journeyed across the Outer Hebrides, taking in the vistas, shores, bodies of water and history. It was just the right mix of hiking and history."
"From stunningly wide and sandy beaches to rain dampened peat bogs to craggy hills and ocean bluffs, the islands are wonderfully beautiful."
Sebastopol, California, USA
"I would highly recommend this tour for anyone who enjoys a healthy outing in beautiful locations, with a good helping of great stories to accompany the adventure!"
"We will never forget this trip - truly a trip of a lifetime!"
Eve Benesh and John Crowley