The North Coast 500 & Orkney Islands tour in the most northwesterly corner of Scotland is home to some of the most stunning landscapes in the UK.
Whether it's tiny crumbling ancient castles, towering, giant remote peaks, secluded white sandy coves or beguiling natural wonders, the North Coast 500 & Orkney Islands route has it all.
NC 500 & Orkney Islands - Tour Overview
There are the remote and rugged mountain ranges of the north, with the famous peaks of Ben Hope, Stac Pollaidh, An Teallach and Suilven.
The epic surf and natural beauty of the pristine white sand beaches and coves of Achmelvich, Sandwood Bay and Balnakeil.
The natural wonders and ancient geology of Smoo Cave and the towering sea stacks of the Old Man of Stoer and Duncansby Head.
Ancient castles, Iron Age brochs and remote towering cliffs along a stunning rugged  coastline, with rare seabirds and wildlife make complete a journey in one of the most beautiful corners of the British Isles.
This tour also now includes 3 nights on the Orkney Islands.
This tour is 8 nights and 9 days in duration.
The tour begins and finishes in Inverness.
Meeting point Saturday 9am Inverness.
Departure point Sunday 1/2pm Inverness.
All meals while on tour, including wine or beer with evening meals.
All accommodation while on tour with en-suite facilities (own bath).
Expert guides with you for the duration of the tour.
Private transportation throughout the tour, including domestic return flights to the islands.
Entrance fees and special events as noted in the itinerary.
Trip Grading / Activity Level
This is a stunning journey along Scotland's rugged north and northwest coast and remote interior and will appeal to hikers of all abilities and inclinations. There are also alternative hikes available on days when a more strenuous hike is planned. 
The walks will vary in length from 3 to 7 miles per day (5 to 11.5kms) or approximately 2 to 5 hours of walking with longer or shorter options available on most days.
Most walks involve some elevation and gain loss, although there are also many flat sections.
The walks are typically along white sand beaches and across open moorland, where you are never far from the ocean. Most of the trails are good underfoot, although some sections may become muddy after rainfall.
Good quality waterproof hiking boots are essential.
For the full itinerary or to discuss any aspects of the trip itself, please contact Stuart Hall at Hike Scotland.
NC 500 & Orkney Islands - Tour Dates 2022
Week commencing Saturday 2nd July – Sunday 10th July 2022 (8 nights)
£3495 / $4495 per person
Single supplement; £360 / $495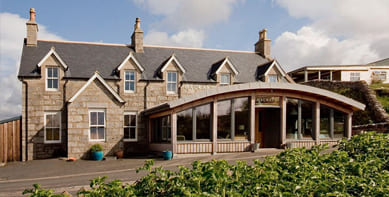 Mackay's Rooms, Durness
Mackay's offer a premium collection of properties in the rugged far north west corner of the Scottish Highlands including the fabulous boutique B&B Mackay's Rooms, a 4 Star Bunkhouse, a self-catering Cottage and Cabin, and Croft 103, our luxury eco-friendly self catering crofts.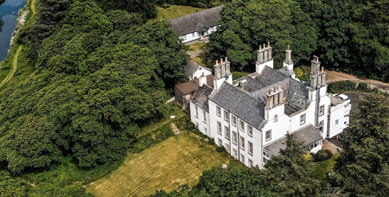 Forss House Hotel, Thurso
Forss House is a delightful 1810 country house hotel set in 20 acres of woodland, below a waterfall, on a loop of the gently meandering River Forss. For those enjoying the North Coast 500 Forss House is a great stopping off point for to enjoy some of the best local food you'll find on your route.
"Stuart's hikes showed us not only the beauty of this island, but also the history and stories behind it. He is a most fascinating guide/teacher, who really brought Scotland alive for us."
Debbie Post and Janella Newman
New Jersey and Delaware, USA
"Stuart's hikes showed us not only the beauty of this island, but also the history and stories behind it. He is a most fascinating guide/teacher, who really brought Scotland alive for us."
Debbie Post and Janella Newman
New Jersey and Delaware, USA
"The lodgings were of the highest quality for the region and the food and spirits were fresh, delicious and generous."
New Orleans, Louisiana, USA
"A trip to be highly recommended especially if you want to go off the beaten track."
"As in each of our previous trips, the scenery was magnificent, the food and lodgings were outstanding and Stuart, who knows every square inch of Scotland, handled matters flawlessly."
Carmel Valley, California, USA
"The lodgings were of the highest quality for the region and the food and spirits were fresh, delicious and generous."
New Orleans, Louisiana, USA
"A trip to be highly recommended especially if you want to go off the beaten track."
"As in each of our previous trips, the scenery was magnificent, the food and lodgings were outstanding and Stuart, who knows every square inch of Scotland, handled matters flawlessly."
Carmel Valley, California, USA