This magical and historical journey through the Western Highlands follows age old drovers trails and ancient military roads.
From the stunning Bonnie Banks of Loch Lomond in Scotland's Southern Uplands, up to Rannoch Moor, one of the most desolate and windswept places in the British Isles and from there into the heart of Scotlands most famous glen, atmospheric and brooding, Glencoe, scene of the 1692 massacre of the Glencoe Macdonalds by the redcoat soldiers commanded by the Campbells.
Loch Lomond & Glencoe - Tour Overview
The week's outstanding hiking begins on the Highland Boundary Fault, the geological boundary between Lowland and Highland Scotland which for many centuries also formed a major cultural divide between the two. We then follow the 'bonnie banks' of Loch Lomond for much of its glorious length northwards towards the mountainous Western Highlands, traditionally the home of the Gaelic speaking clans loyal to the Stuart monarchs.
We traverse bleak and desolate Rannoch Moor and emerge in Glencoe, famous for the massacre of 1692 as well as for its massive, brooding volcanic peaks. The Devil's Staircase leads us towards Fort William, capital of the Western Highlands from where we visit beautiful Glenfinnan, with its towering memorial to the Jacobite Uprising of 1745 and the 21 arch railway viaduct made famous in the Harry Potter movies.
Experience an epic journey through the Western Highlands, enjoying superb Highland hospitality along the way.
This tour is six nights and seven days long running from Saturday to Friday.
Tour starts and finishes in Edinburgh.
Meeting point and time; Saturday 9am, The Edinburgh B and B Hotel, Rothesay Terrace, Edinburgh.
Departure point and time; Friday 5pm (approximately), The Edinburgh B and B Hotel Rothesay Terrace, Edinburgh.
All meals while on tour, including wine and beer with evening meals.
All accommodation while on tour with en suite facilities (own bath).
Expert local guides with you for the duration of the tour.
Entrance fees and special events as noted in the itinerary.
Private transportation throughout the tour.
Trip Grading / Activity Level
This is a CLASSIC HIKING tour designed for active hikers who are comfortable with undulating terrain and uneven footing.
Hikes vary in length from 4 to 9 miles (6.5 to 14.5kms) per day or 3 to 5 hours hiking per day. Elevation gains range from zero along the shores of Loch Lomond  to 1300 feet (450m) of descent over two hours on uneven, rocky trails in the Glencoe area.
The terrain includes some sections of the West Highland Way which are on good quality hiking trails, as well as stony paths, which are uneven in places and some softer peat- covered ground that can be wet and muddy. Good quality waterproof hiking boots are essential.
Optional walks are available on most days.
Loch Lomond & Glencoe - Tour Dates 2022
Week commencing Saturday 25th June – Friday 1st July 2022
Week commencing Saturday 27th August – Friday 2nd September 2022
£2490 / $2995 per person
Single supplement; £290 / $395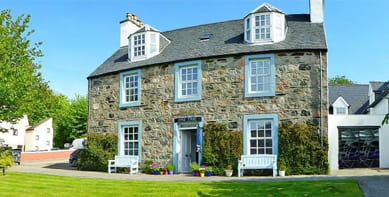 Lime Tree Hotel
This stylish hotel in Fort William offers fantastic views of Loch Linnhe and the hills beyond, 9 stylish double/twin/family bedrooms, a contemporary award winning restaurant, fantastic Art Galley hosting National shows, comfy lounges with open fires, drying room, map room, bike storage and Wireless broadband.
"Stuart's hikes showed us not only the beauty of this island, but also the history and stories behind it. He is a most fascinating guide/teacher, who really brought Scotland alive for us."
Debbie Post and Janella Newman
New Jersey and Delaware, USA
"Stuart's hikes showed us not only the beauty of this island, but also the history and stories behind it. He is a most fascinating guide/teacher, who really brought Scotland alive for us."
Debbie Post and Janella Newman
New Jersey and Delaware, USA
"We have just returned from an incredible tour of Loch Lomond and Glencoe. This was our first Hike Scotland tour and it definitely exceeded our expectations."
Placitas, New Mexico, USA
"Our hikes of the beautiful Glencoe/Loch Lomond area, the hallowed grounds of my ancestral clan, were brought to life with the knowledge and stories imparted by Stuart and Ruth."
"Thanks Hike Scotland, for allowing us to fulfil our Scottish dream trip and experience all that the Highlands have to offer."
"We highly recommend Hike Scotland's Loch Lomond & Glencoe Tour for anyone who enjoys walking in a stunning environment."
"We have just returned from an incredible tour of Loch Lomond and Glencoe. This was our first Hike Scotland tour and it definitely exceeded our expectations."
Placitas, New Mexico, USA
"Our hikes of the beautiful Glencoe/Loch Lomond area, the hallowed grounds of my ancestral clan, were brought to life with the knowledge and stories imparted by Stuart and Ruth."
"Thanks Hike Scotland, for allowing us to fulfil our Scottish dream trip and experience all that the Highlands have to offer."
"We highly recommend Hike Scotland's Loch Lomond & Glencoe Tour for anyone who enjoys walking in a stunning environment."