Put simply, the mould was broken after Skye was created leaving an island that is unique in its spectacular mountain landscapes and superb coastal scenery.
This carefully crafted itinerary takes our guests on a journey through the entire island from tip to toe and across from the Trotternish Ridge on the east to the stunning, towering, high sea cliffs on the Atlantic coast. Our three centre experience gives us an insight into the true cultural identity of this fascinating island and takes us back through the centuries to discover the proud history of this, Scotland's most famous and romantic island.
Isle of Skye Discovery - Tour Overview
We travel north from Edinburgh, passing through some of the most beautiful scenery in Western Scotland. Once on Skye we journey from the Sleat Peninsula in the south, up through the majestic Red and Black Cuillin Mountains to Flodigarry on the north coast. We explore three hiking highlights of the island; Loch Coruisk: the Quiraing and the Storr Sanctuary – and enjoy glorious coastal walking on the Cleared Coast and Duirinish Peninsula.
Our expert guides provide a detailed insight into the island's long history, including the tragic story of the nineteenth century Highland Clearances, when thousands of people were forcibly evicted from their homes and made their way to the far corners of the world to begin their lives anew.
Our three centre exploration offers a wide variety of excellent hiking and the opportunity to relax in some of Skye's most comfortable accommodation.
This tour is six nights and seven days long running from Saturday to Friday.
The tour begins and finishes in Edinburgh.
Meeting point; Saturday 9am The Edinburgh B and B Hotel, Rothesay Terrace, Edinburgh.
Departure point; Friday 5pm (approximately), The Edinburgh B and B Hotel, Rothesay Terrace, Edinburgh.
All accommodation while on tour with en suite facilities (own bath).
All meals while on tour, including wine or beer with evening meal.
Expert local guides with you for the duration of the  tour. 
Private transportation throughout the tour.
Entrance fees and special events as noted in the itinerary.
Trip Grading / Activity Level
This is considered a MODERATE tour, designed for active and experienced hikers who are looking for a week of challenging hiking in the remote Scottish mountains.
Most hikes are between 5 and 9 miles (8 to 14kms) per day, approximately 3 to 5 hours of hiking. Elevation gains and descent are up to 1500 feet  (457 metres) on some hikes.
The terrain varies from firm, stony paths to wet peat- covered trails. Good quality waterproof hiking boots are required as the trails are often wet.
Shorter optional walks are available on most days.
Isle of Skye Discovery - Tour Dates 2022
Week commencing Saturday 28th May – Friday 3rd June 2022
Week commencing Saturday 10th September – Friday 16th September 2022
£2890 / $3495 per person
Single supplement; £295 / $395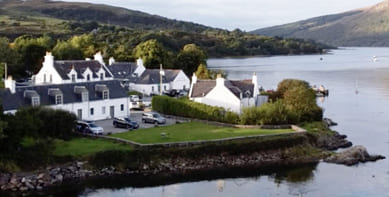 Eilean Iarmain Hotel
This traditional Scottish Hotel, set in an idyllic location, with tremendous views across the Sound of Sleat to the Knoydart Hills, retains it's old world charm and gives guests a truly genuine Highland welcome from the moment you arrive. Nestled in a sheltered bay in the south of the Isle of Skye, it retains many of it's original features and character. With its 2 AA star restaurant offering splendid locally sourced produce and wonderfully welcoming open log fires, with a well stocked bar, the Eilean Iarmain (Isle of Oronsay) is a perfect place to start our tour of Skye.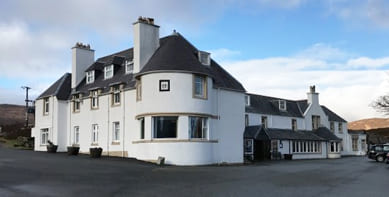 Sligachan Hotel
Much loved by subsequent generations of visitors and locals, Sligachan is still family owned and continues to provide the perfect blend of high standards and friendly informality. Drink in the magnificent views from The Collie Lounge, sample a rare malt in Mackenzie's Bar and relax beside a log fire. The Sligachan Steakhouse and Grill serves the finest produce in comfortable and welcoming surroundings. Reasonably priced homemade bar meals are served all day, every day.
"Stuart's hikes showed us not only the beauty of this island, but also the history and stories behind it. He is a most fascinating guide/teacher, who really brought Scotland alive for us."
Debbie Post and Janella Newman
New Jersey and Delaware, USA
"Stuart's hikes showed us not only the beauty of this island, but also the history and stories behind it. He is a most fascinating guide/teacher, who really brought Scotland alive for us."
Debbie Post and Janella Newman
New Jersey and Delaware, USA
"Stuart led a fabulous tour of the Isle of Skye. I would strongly recommend Hike Scotland."
"If you are fortunate enough to be able to come to the Isle of Skye with Stuart, it will be an adventure that you will never forget."
Debbie Post and Janella Newman
New Jersey and Delaware, USA
"Even the eventful weather couldn't dampen our spirits; we were Skye-high throughout!"
Kiko Itasaka, Julian Prictoe, Dianne Festina and Lucas Wallace
"The Isle of Skye is a beautiful place and I would highly recommend using Stuart as your guide for a trip there or anywhere else your planning on visiting in Scotland."
Abby Bernstein and Evan Diamond
"Stuart led a fabulous tour of the Isle of Skye. I would strongly recommend Hike Scotland."
"If you are fortunate enough to be able to come to the Isle of Skye with Stuart, it will be an adventure that you will never forget."
Debbie Post and Janella Newman
New Jersey and Delaware, USA
"Even the eventful weather couldn't dampen our spirits; we were Skye-high throughout!"
Kiko Itasaka, Julian Prictoe, Dianne Festina and Lucas Wallace
"The Isle of Skye is a beautiful place and I would highly recommend using Stuart as your guide for a trip there or anywhere else your planning on visiting in Scotland."
Abby Bernstein and Evan Diamond